How Do I Address a Widow?
How do you address an envelope to a widow? My mother says to put:
——–Mrs. John Doe – Mrs. (Husband's Full Name)
I think that it should be:
——–Mrs. Jane Doe – Mrs. (Her Full Name)
Since her husband is no longer alive, why use his name? Is either way correct?
——————– Blanche Clark  How to Address a Widow
Dear Ms. Clark:
Here are your options. You can read them all or just skip to #5.
—-#1) Mrs. John Doe is the traditional form for a widow. Just because her husband has died, a widow continues to be 'Mrs. (Husband's Name)' … if she chooses to.
—-For example, my mother continued to use Mrs. Thomas Hickey after my father died. She had Margaret Hickey on her checks, but never Mrs. Margaret Hickey.  She disliked Ms. but I think (in her case) it was a generational thing.
—-#2) Mrs. Jane Doe is the traditional form of address for a divorced woman. Since she would no longer be Mrs. John Doe the divorced woman inserted her given name so everyone would be clear that she was not married anymore.
—-But many married women prefer Mrs. (Their Given Name)+(Family Name) because they want Mrs. (maybe they have children?) and want their given name used. Either they don't know about the 'traditional form for a divorcee' or don't care! What they prefer is what they prefer and that's the end of the discussion.
—-#3) Ms. Jane Doe is the contemporary form which does not suggest a marital status. I note that more and more younger women use this form professionally and anytime they think their marital status is not pertinent to the communication/conversation.
—-#4) Simply Jane Doe – is a casual form. Not using any honorific is very informal.
—-#5) Ask the preference of the person you are addressing. She may prefer different forms of her name in different situations. For a wedding invitation from a bride who knew her husband she might prefer Mrs. John Doe. But from someone she knows professionally – who did not know her husband – she might prefer Ms. Jane Doe.
—-#6) For a spouse who never used the same surname, see the post below, "How to Address a Widow Who Never Used Her Husband's Surname?"
 – Robert Hickey  

How to Address a Widow Who Never Used Her Husband's Surname?
How do you address a sympathy note's envelope a new widow who kept her maiden name?
For example: Her name is Jane Smith and her husband's name was John Taylor?
———————– Sausalito, CA
Dear Sausalito:
Address her using the name she has always used:
————Ms. Jane Smith
————(Address)
Them not using the same surmame made them no less married.  In the note include something like ….  'the loss of your husband, John"
In much of the world it's the norm for women to keep their maiden name. In Much of Asia, South America and the Middle East women typically keep their surname when they marry. It's really just the European cultures – and places influenced by that style – where women change their surnames.
— Robert Hickey
When Do Widows Prefer Mrs. or Ms.?
My aunt's husband died several years ago and she has been seeing someone else for the past several years. They aren't married but I am inviting him to the wedding too.
—-When addressing her invitation, I don't know if I should still write Mrs. or if I should refer to her as Ms. Any advice is greatly appreciated.
——————– Keri
Dear Keri:
Whether she prefers to be addressed as Mrs. (Name) or Ms. (Name) is her choice.
—-She may prefer Ms. (Her full name) since you are inviting her with her new beau.
—-She may prefer 'Mrs. Richard Wilson' (her deceased husband's full name) since it is a family event. It's no secret to her new friend that she was previously married.
The only solution is … call and ask. I've never encountered anyone who was offended when asked 'what form of their name do you prefer'.
NOTE: It's not a forms of address issue, there are a couple of ways to issue this sort of invitation.
—-#1) Formally – adult guests who do not pressent them self as a "permanent couple" (whatever that is) are issued separate invitations. This includes roommates at the same address and 'dating' adults who are living at different addresses.
—-#2) A bit less formally – the principal guest is sent an invitation and you tell them they are welcome to bring a guest. Not everything has to be formal, but I thought I would throw that in.
– Robert Hickey   How to Address a Widow
widow
Not Finding Your Question Answered?
—-#1)  At right on desktops, at the bottom of every page on tablets and phones, is a list of all the offices, officials & topics covered on the site.
—-#2)  After checking the list and reading the posts, if you don't see your question answered send me an e-mail. I am pretty fast at sending a reply: usually the next day or so (unless I am traveling.)  Note: I don't have mailing or Email addresses for any of the officials and I don't keep track of offices that exist only in history books.
—-#3)  If I think your question is of interest to others, I will post the question & answer – always changing the names and specifics.
— Robert Hickey

The Protocol School of Washington (PSOW) was founded in 1988 and offers open-enrollment, classroom-based programs where students learn to become a licensed Intercultural Etiquette and Protocol Trainer, or can earn a certificate in operational protocol by completing Protocol Officer Training. Private, on-site training is also available to provide tailored training solutions. In 2020, PSOW launched online, instructor-led training to meet the needs of students worldwide.
PSOW has offices in: Washington, DC; Columbia, SC; and Dubai, United Arab Emirates. The school is nationally accredited by the Accrediting Council for Continuing Education and Training (ACCET) and provides international protocol, cross-cultural awareness, business etiquette, and image training preparing professionals to build lasting business relationships.
.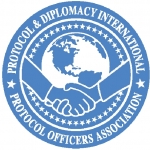 Protocol and Diplomacy International – Protocol Officers Association promotes the protocol profession and raises awareness of its central role in business and diplomacy through education and networking. PDI-POA's mission is to share the highest level of collective expertise, training, information and advice regarding accepted rules of protocol. PDI-POA is committed to facilitating communication, understanding and cooperation among individuals, governments and cultures around the globe.