Use of Rank by Veterans, U.S. Armed Services: Left the Service Before Retirement
I want to honor my dad's military service (Naval Academy class of '77) on my wedding invitation.  He did not retire.  He was a Lt. Commander. I've heard it's not appropriate to list a former rank unless he left the service as a Captain or above. Right? 
———————–– A Blue-and-Gold Bride to Be
I am listing contributors in the credits of my documentary film on the history of our local USAF base. Some are retired officers. Others served in the USAF but then left the Air Force do to other things after a couple of years. Can I write all their names (Rank) (Name) (Abbreviation for their Branch of Service)?
———————–– Filmer
Dear Bride to Be & Filmer:
The answer is that one who doesn't retire – doesn't continue to use the rank as part of their name. Use of rank as part of one's name is reserved for those who serve until retirement. I checked with Andria Post, Director of Protocol and Event Planning, Naval Sea Systems Command and here is her reply ….
When one leaves the service and resigns his/her rank, he/she does not continue to use the rank as part of his name. He/she served in an honorable fashion and served his/her committed time. But on the invitation it would be:
—- Mr. and Mrs. James Wilson
Perhaps in the wedding program or in the local newspaper it could read:
—-… the daughter of John Paul Jones, a U.S. Naval Academy graduate, Class of 1977, and Mary Jones of Springfield, Virginia.
I too would also be proud of the fact that my Dad was an Academy graduate and achieved the rank of Lieutenant Commander, but use of the rank as part of his name would be inappropriate.
In the film credits, veterans would be listed with their rank and service after their name::
—-—-James Wilson (Captain, USAF)  
Fully retired individuals would be listed with the rank as part of their name:
——–Colonel James Wilson, USAF, Retired
— Robert Hickey   Use of Rank by Veterans
veteran

Robert Hickey, "Honor & Respect"
Use of Rank by a Veteran: Former (Not Retired) Enlisted Member?
How do I address an invitation to a couple? She is a prior-service Marine Corporal.  He is Master Chief Petty Officer Keith Smith who is retired from the U.S. Coast Guard.
She was Corporal Jane Doe, however her married name is Smith.  Would she be addressed in a formal military setting as Corporal Doe? or Corporal Smith?
—————-– CMSV
Dear CMSV,
Those who are retired from the armed services are permitted to continue to use their rank socially.
Those resigning their rank/commission and being honorably discharged … are not permitted to continue to use their ranks after their service ends.
Since you say she was honorably discharged, she is now addressed as a civilian using her current name without rank: Ms. Jane Smith. I used "Ms." rather than "Mrs." since "Ms." is the most typically used honorific for women today when their marital status is not pertinent. But if for some reason she prefers "Mrs. Jane Smith" or "Ms. Jane Smith" I would follow her preference.
As to whether it matters if she is married to an armed services retiree, Department of Defense guidelines are also clear that being married to a member of an armed service does not allow any use of the spouse's rank. So in joint address they would be:
—-—-Master Chief Petty Officer James Smith
—-—-and Mrs. Smith
—-—-Master Chief Petty Officer James Smith
—-—-and Mrs./Ms. Jane Smith
— Robert Hickey Use of Rank by a Veteran   Use of Rank by Veterans
veteran
Support for Use of Rank by a Veteran
I respectfully would like to offer my comment on what I perceive to be an incorrect statement regarding the use of military rank and title in the above posting.
With all due respect, I would say that Ms. Andria Post at the Naval Sea Systems Command has erred.
In fact, a veteran who has served honorably in a time of war may bear the title of the highest grade held during that war. This right is conferred by Congress in law by 10 US Code 772 Section (e) . I have only included references to retired officers in (c) and those who served honorably during wartime (e), and omitted (a)(b)(d)(f) and further.
CITE-10 USC Sec. 772 01/03/2012 (112-90) TITLE 10 – ARMED FORCES Subtitle A – General Military Law PART II – PERSONNEL CHAPTER 45 – THE UNIFORM
 Sec. 772. When wearing by persons not on active duty authorized

—-(c) A retired officer of the Army, Navy, Air Force, or Marine Corps may bear the title and wear the uniform of his retired grade.
—-(e) A person not on active duty who served honorably in time of war in the Army, Navy, Air Force, or Marine Corps may bear the title, and, when authorized by regulations prescribed by the President, wear the uniform, of the highest grade held by him during that war.

SOURCE (Aug. 10, 1956, ch. 1041, 70A Stat. 35; Pub. L. 99-145, title XIII, Sec. 1301(a)(1), Nov. 8, 1985, 99 Stat. 735; Pub. L. 101-189, div. A, title XVI, Sec. 1621(a)(1), Nov. 29, 1989, 103 Stat. 1602; Pub. L. 104-201, div. A, title V, Sec. 551(b), Sept. 23, 1996, 110 Stat. 2525.)
In the scenario described by "Bride-To-Be" , her father, a 1967 graduate of the US Naval Academy, would have, in fact, served during wartime (Vietnam War), and we may safely conclude did so honorably, as all service as a commissioned officer is deemed honorable unless such officer was sentenced to dismissal (very unlikely) by a court-martial. Therefore, I would encourage Miss Bride-To-Be to refer to her father by the highest grade held by him during wartime.
Additionally, there seem to be several more questions on this subject, and I believe that some protocol personnel are erring to the detriment of honorably discharged wartime veterans. Retired personnel obviously have earned the right to refer to themselves as such, and are further bound by DOD regulations with regard to the manner in which they make such reference. I wonder whether honorably discharged wartime veterans, not so bound by DOD regulations, may socially bear the title so long as they comport with applicable laws.
———————-– D.A.B.
Dear DAB:
Thanks so much for your note.
Having worked on this topic for 25 years … here are my reactions:
—-#1) What jumps out at me is "when authorized by regulations prescribed by the President."
—-—-I believe this applies to recall to active duty and a veteran assuming his/her former rank. I am unaware of any regulation prescribed by the President at this time.
—-#2) The Armed Service definitions of "retired" and "veteran" are distinct.
—-—-Retired personnel do not resign their ranks. They are never technically separated from their Service. Whereas, veterans do resign their rank and are separated from the service.
—-#3) As an observer of traditions, I note the pattern of limiting "address by rank to fully retired personnel" is typical in uniformed services.
—-—-The tradition is also followed by the Canadian and Mexican armed services … Maybe others too, but I know that those two limit use of rank to fully retired personnel.
—-—-A retired police officer, one who had a full career, can continue to use his rank when retired, but someone who was a police officer for a time and then chose to move on to another job … cannot.
—-—-Same with firemen.
—-#4) At the most recent Veterans Day Celebration in the US Senate, they read the names of those attending in two ways: retired personnel as (Rank)+(Name) and veterans as (Name), (Rank).
I don't see this in anyway honoring anyone's service more or less, but it does reserve certain courtesies of rank to fully retired career (and medically retired) personnel.
— Robert Hickey   Use of Rank by a Veteran Use of Rank by Retired US Military

How to Identify Yourself as a Veteran?
Is my son-in-law abusing the use of the title: SSGT, USMC, even if including Vet on return address labels such as this one:
—-—-SSGT Todd S. Miles, USMC, VET
—-—-124 Rivington Avenue
—-—-Fairmont, AL 34567-8901
He was honorably discharged from the Marine Corps several years ago after serving two years state-side on active duty and then a couple of years stateside in the reserves at which time he "got out". He claims once a Marine always a Marine and uses that as justification to use his former rank and service affiliation on correspondence … such as in the return address on envelopes. He receives no income related to his military service since he "got out."
I appreciate the fact that he served his country in the Marine Corps, but is this legal, appropriate and/or otherwise proper? I don't desire that my daughter's friends and/or relatives to be laughing behind their backs if this form of address does not fit into at least one of those descriptions.
——————–– Ben Packard
I am a former enlisted soldier who spent five years as infantry in the Army serving a combat tour in Afghanistan before finally getting out in 2008. I am currently attending school with plans of returning to the Army once I complete my degree. However, in the mean time there are occasions where I would like to use my military rank for letters of recommendations, etc. What would be the correct format for using my former rank with my name?
——————–– C.H.
Dear Mr. Packard & C.H.,
Use of one's former rank by non-retired military personnel is not a prescribed usage by the Department of Defense (DoD). Use of rank is reserved for career 20-year retirees — with the intention that their use of the rank is for personal social use — and is not for use subsequent civilian work-related situations.
In a bio or in a resume the service to our nation would be included as part of one's experience — it's just using the rank as part of one's name the DoD specifically prohibits.
So the correct form of address in both cases is :
Mr. (Name)
— Robert Hickey   Use of Rank by a Veteran
veteran
Use A Rank by a Veteran for Charity?
I am a USMC veteran and am sending out Toys for Tots Awards to those who supported our campaign. The Marine Corps League (MCL) administers the Toys for Tots program.  I am the local coordinator.
On the bottom right, there is room for my signature as the organizer, which I intend to just print out in a nice looking script font.  I also intend to put beneath my name:
—-—-USMC
——-_-—and
—-—-MCL Coordinator
I think including my USMC rank will increase my name recognition in our community. The questions I have are:
—-#1) I'd like to use Vincent Corrado, SGT, USMC but wonder if I should if I am no longer in the Marines? (I served my 4 years and received an honorable discharge.)
—-#2) Or do I need to say Former SGT USMC?
—-#3) Or do I just stick with Vincent Corrado, MCL Coordinator?
— Vincent Corrado Use of Rank by Retired US Military
Dear Mr. Corrado:
Stick with Vincent Corrado, MCL Coordinator
Identify yourself by the capacity you are sending out the letters — with your Name + your affiliation with the MCL (Marine Corp League) — coordinator of the charity.
If you want to mention you are a USMC veteran, the right place to do it would be in the text of the letter.  Use of a rank in the form you suggest is reserved to fully retired personnel and is limited to social use.
— Robert Hickey Use of Rank by Veterans Use of Rank by Retired US Military
Robert Hickey, "Honor & Respect"
When Should You Use the Forms of Address on this Page?
You can use these forms of address for any mode of communication: addressing a letter, invitation, card or Email. (If there are differences between the official and social forms of address, I will have mentioned the different forms.)  The form noted in the salutation is the same form you say when you say their name in conversation or when you greet them.
___________________n
Not Finding Your Question Answered?
—-#1)  At right on desktops, at the bottom of every page on tablets and phones, is a list of all the offices, officials & topics covered on the site.
—-#2)  After checking the list and reading the posts, if you don't see your question answered send me an e-mail. I am pretty fast at sending a reply: usually the next day or so (unless I am traveling.)  Note: I don't have mailing or Email addresses for any of the officials and I don't keep track of offices that exist only in history books.
—-#3)  If I think your question is of interest to others, I will post the question & answer – but leave out your name and change all the specifics.
— Robert Hickey 
Robert Hickey, "Honor & Respect"

The Protocol School of Washington (PSOW) was founded in 1988 and offers open-enrollment, classroom-based programs where students learn to become a licensed Intercultural Etiquette and Protocol Trainer, or can earn a certificate in operational protocol by completing Protocol Officer Training. Private, on-site training is also available to provide tailored training solutions. In 2020, PSOW launched online, instructor-led training to meet the needs of students worldwide.
PSOW has offices in: Washington, DC; Columbia, SC; and Dubai, United Arab Emirates. The school is nationally accredited by the Accrediting Council for Continuing Education and Training (ACCET) and provides international protocol, cross-cultural awareness, business etiquette, and image training preparing professionals to build lasting business relationships.
.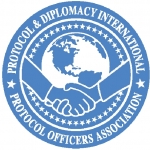 Protocol and Diplomacy International – Protocol Officers Association promotes the protocol profession and raises awareness of its central role in business and diplomacy through education and networking. PDI-POA's mission is to share the highest level of collective expertise, training, information and advice regarding accepted rules of protocol. PDI-POA is committed to facilitating communication, understanding and cooperation among individuals, governments and cultures around the globe.