How to Address a Secretary

U.S. Cabinet Member
Federal Executive Department
How to Address a Secretary of a Department
A Member of the U.S. President's Cabinet
—-Envelope, official:
—-—-The Honorable
—-—-(Full name)
—-—-Secretary of (department)
—-—-(Address)
————Or less formal, on one line:
—————-The Honorable (Full name)
—————-Secretary of (department)
—————-(Address)
—-Letter salutation:
—-—-Dear Mr./Madam Secretary:
Secretary
How to Address a Secretary and Spouse?
I need to send a wedding invitation to the US Secretary of Defense & his wife. What's the right form?
—-—-—-—-—-– T. J. M.
Dear T. J. M.:
Most (Offices/Jobs) are not mentioned on social correspondence. But the highest ones are – and the office holder's name is not used. Thus, members of the Cabinet are so high invitations are sent to the (Office) without mention the name.
Here is the formula:

—-Social envelope:
——–The Secretary of (Department)
—-—-and Mrs. (Shared Surname)
—-—-(Address)
—-—-The Secretary of (Department)
—-—-and Ms./Dr. (Her Full Name)
—-—-(Address)
—-—-The Secretary of (Department)
—-—-and Mr. ( Full Name)
—-—-(Address)
—-Inside envelope:
—-—-The Secretary of (Department) and Mrs. (Surname)
—-—-The Secretary of (Department) and Ms./Dr. (Her Full Name)
—-—-The Secretary of (Department) and Mr. (Full Name)
– Robert Hickey
secretary
How to Address a Former Secretary?
I am writing a message to former United States Secretary of Transportation, who now works for a DC consulting/lobbying group. How do I address him in on the envelope and in the salutation.? Is still Secretary (Name).
—-—-—-– Kathy J. Young

Dear Ms. Young:
Three-part answer:
—-#1) Such high former officials appointed by the President and approved by the Senate continue to be in writing:
————The Honorable (Full Name)
—-In conversation, former secretaries are no longer addressed as Mr./Madam Secretary or Secretary (Surname) as they were when they were in office. Formally they go back to the form of address to which they were entitled before becoming a Secretary. Secretary is not a permanent rank that one is elevated to and keeps like Dr., ambassador or judge.
—-#2) But, certainly in the media former secretaries are addressed, and referred to, as Secretary (Name).  While this informs the viewer/reader why this person's opinion might be interesting, it can also be misleading.  Aware reporters are quick to note their 'former' status so no one mistakenly thinks they are the current office holder.
—-Some former office holders insist upon being addressed as Secretary (Name) in their post-office private endeavors. Most of the time it doesn't create confusion, but in the presence of a current Secretary of (Portfolio) one should avoid addressing a former secretary as Secretary (Name).
—-#3) Perhaps the most important reason not to address this former secretary as Secretary (Name) is his current role as a paid lobbyist promoting the points of view of his client. A current Senator or member of the House would likely know he/she is speaking to a former secretary, but should not address him as in the style of a secretary during a lobbying interaction.
—-Envelope and in the letter's address:
—-—-Mr. (Full Name)
—-—-(Name of new affiliation)
—-—-(Address)
—-Salutation:
—-—-Dear Mr. (Surname):
– Robert Hickey
Not Finding Your Question Answered?
—-#1)  At right on desktops, at the bottom of every page on tablets and phones, is a list of all the offices, officials & topics covered on the site.
—-#2)  After checking the list and reading the posts, if you don't see your question answered send me an e-mail. I am pretty fast at sending a reply: usually the next day or so (unless I am traveling.)  Note: I don't have mailing or Email addresses for any of the officials and I don't keep track of offices that exist only in history books.
—-#3)  If I think your question is of interest to others, I will post the question & answer – always changing the names and specifics.
— Robert Hickey

The Protocol School of Washington (PSOW) was founded in 1988 and offers open-enrollment, classroom-based programs where students learn to become a licensed Intercultural Etiquette and Protocol Trainer, or can earn a certificate in operational protocol by completing Protocol Officer Training. Private, on-site training is also available to provide tailored training solutions. In 2020, PSOW launched online, instructor-led training to meet the needs of students worldwide.
PSOW has offices in: Washington, DC; Columbia, SC; and Dubai, United Arab Emirates. The school is nationally accredited by the Accrediting Council for Continuing Education and Training (ACCET) and provides international protocol, cross-cultural awareness, business etiquette, and image training preparing professionals to build lasting business relationships.
.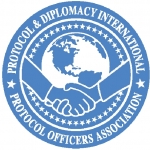 Protocol and Diplomacy International – Protocol Officers Association promotes the protocol profession and raises awareness of its central role in business and diplomacy through education and networking. PDI-POA's mission is to share the highest level of collective expertise, training, information and advice regarding accepted rules of protocol. PDI-POA is committed to facilitating communication, understanding and cooperation among individuals, governments and cultures around the globe.