How to Write a Name on a Place Card

How to Write a Name on a

Tent Card
How to Write an Official's Name on a Place Card?
Can you tell me how to write a mayor's name on a formal place card? Do I refer to him as:
—-—-The Honorable Mayor Darr
—-—-—-or How to Write a Name on a Place Card
—-—-Mayor Mark A. Darr
———————–— Nicole in Little Rock
I am hosting a dinner for a U.S. Senator. How should her place card be written?
—-—-Senator Dianne Feinstein
—-—-—-or
—-—-Diane Feinstein, U.S. Senator 
————————— Debbie in Corporate Affairs
Dear Nicole & Debbie:
#1) A formal place card simply identifies a person's seat. The card is small and the name is written on one side of the card: the side facing the guest. You write his or her's name as he or she is addressed in conversation:
—-—-Mr. Hickey  How to Write a Name on a Place Card
—-—-Mayor Darr
—-—-Senator Feinstein
—-At formal events there's likely a centerpiece/floral arrangement so other guests really can't see one another's cards. There is no functional purpose to putting a name on both sides.
—-At official events, when the guest holds a high office, it is traditional to write just title of the office the official holds. E.g.,:
—-—-The President How to Write a Name on a Place Card
—-—-The Chief Justice
—-—-The Mayor of (City)
#2) At other events larger double-sided tent cards or placards (text on both sides, so others at the table can see who is who and network) can have whatever information the host decides is useful:

——–Mark A. Darr————Name and office
—-—-Mayor of (City)
—-—-—-or
—-—-Mayor Darr————Conversational Name
—-—-(City & State)
—-—-—-or
—-—-Mayor Mark A. Darr————Full Name
—-—-(City & State)
—-—-—-or
—-—-The Honorable Mark A. Darr————Complete identification
—-—-Mayor of (City & State)
—-So don't ask what do I put on the card?
—-—-Ask —
—-—-—-What is the function of the card?
—-—-—-What information will best support that function?
—-—-—-Does it only need to show the guest which their seat?
—-—-—-To provide 'call-by name' for others to see and use?
—-—-—-… Or does it need to provide identification for networking?
#3) Some event organizers will put on a tent card one version of the name facing the guest and another version facing away from the guest. But in every instance the text is dependent on the needs of the guest.
— Robert Hickey

How to Write Names on Tent Cards for a Panel?
We are preparing tent cards for a panel discussion. There will be six on the panel: two attorneys, a state senator, and the Chief Justice of the Wyoming Supreme Court and two "civilians" who are members of the press.
Would we simply list their names on the first line, followed by their title on the second line??
————————-– Anne Leslie.
Dear Ms. Leslie:
The purpose of a tent card is #1) for identification and #2) provide the call-by name for the audience when they ask questions. I don't have all the details of the event, but here are some samples that might get you started:
—–—–Mr. (Full Name)
—–—–Attorney, Laramie
—–—–Senator (Full Name)
—–—–District H42 Laramie
—–—–65th Wyoming Legislature
—–—–Chief Justice (Full name)
—–—–Wyoming Supreme Court
—–—–Mr./Ms. (Full Name)
—–—–Laramie News
— Robert Hickey

On Place Cards is the Name on One Side or Both Sides?
It was decided we would use place cards. Should we use Mr. John Doe or Mr. Doe.  John Doe or John.  Does the name go on one side or both sides?
———————–– Marietta Stone
Dear Ms. Stone:
A standard place card has the name on one side facing the guest. The form of the name is what you would call the person in conversation. Protocol officers use the word place card for a small card (maybe flat, maybe folded) … perhaps 1″ x 3″
—–#1) At formal events that's likely to be Mr. Doe.
—–#2)  You would use Mr. John Doe on a place card when you have a Mr. John Doe and a Mr. William Doe BOTH coming and you need to be specific.
—–#3) Just John Doe or John are OK too for casual and family events.  They lend a note of informality to the event but still do the job.
— Robert Hickey
Not Finding Your Question Answered?
—-#1)  At right on desktops, at the bottom of every page on tablets and phones, is a list of all the offices, officials & topics covered on the site.
—-#2)  After checking the list and reading the posts, if you don't see your question answered send me an e-mail. I am pretty fast at sending a reply: usually the next day or so (unless I am traveling.)  Note: I don't have mailing or Email addresses for any of the officials and I don't keep track of offices that exist only in history books.
—-#3)  If I think your question is of interest to others, I will post the question & answer – always changing the names and specifics.
— Robert Hickey

The Protocol School of Washington (PSOW) was founded in 1988 and offers open-enrollment, classroom-based programs where students learn to become a licensed Intercultural Etiquette and Protocol Trainer, or can earn a certificate in operational protocol by completing Protocol Officer Training. Private, on-site training is also available to provide tailored training solutions. In 2020, PSOW launched online, instructor-led training to meet the needs of students worldwide.
PSOW has offices in: Washington, DC; Columbia, SC; and Dubai, United Arab Emirates. The school is nationally accredited by the Accrediting Council for Continuing Education and Training (ACCET) and provides international protocol, cross-cultural awareness, business etiquette, and image training preparing professionals to build lasting business relationships.
.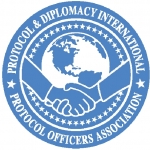 Protocol and Diplomacy International – Protocol Officers Association promotes the protocol profession and raises awareness of its central role in business and diplomacy through education and networking. PDI-POA's mission is to share the highest level of collective expertise, training, information and advice regarding accepted rules of protocol. PDI-POA is committed to facilitating communication, understanding and cooperation among individuals, governments and cultures around the globe.