How to Address a Retired Judge


How to Address a

Former Judge
Is a Retired Judge Still Addressed as a Judge?
We have invited a retired local judge to speak at our annual association dinner. He's not speaking as a representative of the Court. He will be there as a notable local citizen. Is it correct to write his name in the program as the Honorable (Full Name) and to call him Judge (Surname) in conversation?
—————-– Anne Hendrickson How to Address a Retired or Former Judge
Dear Ms. Hendrickson:
Unless he or she left the bench in dishonor, retired judges continue to be addressed in writing – or listed in a program as –  the Honorable' (Full Name) . They are addressed in conversation or a salutation as Judge (Surname) in every social situation.
—–Listed in a program:
———-The Honorable (Full Name)
———-Judge of the (Name of Court) 1990-2010
—–Envelope:
———-The Honorable (Full Name)
———-(Address)
—–Conversation:
———-Judge (Surname)
See the next post for more about use of Judge (Name) in post-retirement professional endeavors.
– Robert Hickey How to Address a Retired or Former Judge

How Should a Former Judge Refer to Himself?
I am a Magisterial District Judge (MDJ) who is retiring – having lost when running for re-election (no dishonor involved). I am returning to full-time private practice. Here in Pennsylvania, MDJs are frequently lawyers who have law practices in addition to their judicial post, which is what I did.
I think some people will still call me Judge (Name). My question regards how I refer to myself?  I don't intend to use the honorific judge in attorney correspondence. I am preparing announcements to send to friends, other lawyers, existing clients, and other people advising them I will be expanding my practice to include certain matters that I could not, by rule, handle while an MDJ.
Would it be proper, in those announcements, to say, for example, Judge Knight will draw on his 25 years of experience as a prosecutor and District Judge, in the defense of criminal and traffic cases.
————————–– Kevin Knight
Dear K.K., How to Address a Retired or Former Judge
In your announcements do not refer to yourself as Judge Knight.
In your new position, use a form of your name supported by your new position … not a former position
—–#1)  What to write? / Official Use:
—–—–I'd suggest wording such as 'Kevin Knight – or Mr. Knight – will draw on his 25 years of experience as a prosecutor and Magisterial District Judge, in the defense of criminal and traffic cases.'
—–In this role as an attorney working for yourself, you are a private citizen. Use a form of your name pertinent to this role in this official use.
—–#2) Social Use: Former judges can correctly be Judge (Surname) socially after stepping down from the bench – but only in clearly social settings.. E.g, you could be Judge Kevin Knight & Mrs. Knight  on an invitation's host line on your daughter's wedding invitation. No one would be confused as to whether the wedding was an official event or a social event.
—–—You might be Judge (Surname) at an event you attend as a former Magisterial District Judge – though it's also possible the host might decide to reserve Judge (Name) for current judges in the room.
—–#3) I am influenced by how protocol officers typically handle this issue in official situations. Protocol officers at the Pentagon regularly encounter retired officers working for defense contractors. These contractors are at the Pentagon as a representative of the vendor to the Department of Defense.
—–—–DoD's perspective on using his (Rank) + (Name) + (Retired) in a subsequent job would be … to paraphrase the current Chief of Protocol for the Joint Chiefs of Staff at the Pentagon: If retirees are in a new job, then they should be addressed in a way supported by their new job and not using military rank + name + retired. This is a misrepresentation. They are in a new job – not the military. When retired officers attend Pentagon events as the holder of a post-retirement job – and not invited as a retired officer – they are not addressed by (Rank) + (Name) + (Retired) on invitations or tent cards etc., but as 'Mr./Ms. (Name') and their new company affiliation.
– Robert Hickey How to Address a Retired or Former Judge
Not Finding Your Question Answered?
—-#1)  At right on desktops, at the bottom of every page on tablets and phones, is a list of all the offices, officials & topics covered on the site.
—-#2)  After checking the list and reading the posts, if you don't see your question answered send me an e-mail. I am pretty fast at sending a reply: usually the next day or so (unless I am traveling.)  Note: I don't have mailing or Email addresses for any of the officials and I don't keep track of offices that exist only in history books.
—-#3)  If I think your question is of interest to others, I will post the question & answer – always changing the names and specifics.
— Robert Hickey

The Protocol School of Washington (PSOW) was founded in 1988 and offers open-enrollment, classroom-based programs where students learn to become a licensed Intercultural Etiquette and Protocol Trainer, or can earn a certificate in operational protocol by completing Protocol Officer Training. Private, on-site training is also available to provide tailored training solutions. In 2020, PSOW launched online, instructor-led training to meet the needs of students worldwide.
PSOW has offices in: Washington, DC; Columbia, SC; and Dubai, United Arab Emirates. The school is nationally accredited by the Accrediting Council for Continuing Education and Training (ACCET) and provides international protocol, cross-cultural awareness, business etiquette, and image training preparing professionals to build lasting business relationships.
.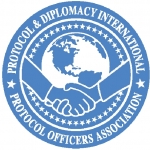 Protocol and Diplomacy International – Protocol Officers Association promotes the protocol profession and raises awareness of its central role in business and diplomacy through education and networking. PDI-POA's mission is to share the highest level of collective expertise, training, information and advice regarding accepted rules of protocol. PDI-POA is committed to facilitating communication, understanding and cooperation among individuals, governments and cultures around the globe.