How to Use Esquire
or

Esq.
For how to address a lawyer or an attorney see How to Address an Attorney 
See also information on use of Post-nominal Abbreviations.
Esq. as a Post-Nominal for Lawyers in the USA
How to Use Esquire or Esq.
How Do I Use 'Esquire' With My Name?
I am not sure if I should write my name followed by:
—-Esq., J.D.
—-Esq., Dr.
—-Dr., Esq.
—-Esq.
—-——or
—-J.D.
Any help would be appreciated.
—-—-—-– Kenneth Millard   How to Use Esquire or Esq.
I am an attorney and I do not use Esq. following my surname. Although I am a practicing attorney, it strikes me that to insert the Esq. would project a self-importance I do not feel. What's the traditional way to use Esq.?
—-—-—-– Robert Simpson
Dear Mr. Millard & Mr. Simpson:
In the much of the U.S.'s public's mind Esq. is used after a name to identify a lawyer in exactly the same way M.D. and other post-nominals that identifies one as a physician. But in fact, they are not equivalent.

The traditional use of Esq. is in the U.S.A. is for others to add it to the attorney's name when writing to a practicing attorney (e.g., on and envelope or on a letter) to note/specify that the attorney is being addressed in his or her role as counsel in litigation / as professional representation in a legal matter. E.g.:
—-Kenneth Millard, Esq.
—-(Address)
Use of Esq. is important among the ethics rules of the legal profession which require communications from an attorney (on one side) be with the opposing side's attorney rather than directly with the opposing side. By addressing the other side's attorney as Esq., the person initiating the communication is being clear that he or she is following correct procedure.
However, traditionally Esq. is not used reflexively … that is, one does not call oneself an Esq. or present one's name on letterhead or business card with Esq.  following one's name.  Thus, on a business card or letterhead names of the principals, partners, associates, are be presented without post nominals:
—-Kenneth Millard
—-Attorney at Law
J.D. is most often used in academic contexts. If you are the author of an article that's published in an academic journal or teach at a university and are listed in the catalog, then using your specific academic degree is pertinent and traditional:
—-Kenneth Millard, J.D.   How to Use Esquire or Esq.

And finally: Esq. and J.D. are not used in combination.  It is very, very, very rare for a person holding a J.D. to want to be addressed as 'Dr. (Name)'.  Dr. is not used after an attorney's name in any circumstance.
– Robert Hickey
How to Use Esquire or Esq.
Is 'Esquire' Used with Academic Degrees?
I live in the U.S., am a registered pharmacist – D.Ph. and I have a Juris Doctor – J.D.: I am a member of my State Bar Association so I believe I may use Esq.  Can I use Esquire after my name along with my D.Ph.?
————– RD
What is the correct order for Esq. among professional post-nominal abbreviations?  Last?   The other degree I want to include is J.D.
————– MB
Dear RD and MB:
—-#1) Others will address you as  (Full Name), Esq. when they are addressing you in reference to legal matter in which you are providing counsel.
—-#2) Post-nominals for academic degrees are not used with Esq.
—-#3) Esq. is not an abbreviation for an academic degree, so it is not part of the official form of one's name.
—-#4) Use J.D. after your name only in academic settings.
– Robert Hickey   How to Use Esquire or Esq.
Not Finding Your Question Answered?
—-#1)  At right on desktops, at the bottom of every page on tablets and phones, is a list of all the offices, officials & topics covered on the site.
—-#2)  After checking the list and reading the posts, if you don't see your question answered send me an e-mail. I am pretty fast at sending a reply: usually the next day or so (unless I am traveling.)  Note: I don't have mailing or Email addresses for any of the officials and I don't keep track of offices that exist only in history books.
—-#3)  If I think your question is of interest to others, I will post the question & answer – always changing the names and specifics.
— Robert Hickey

The Protocol School of Washington (PSOW) was founded in 1988 and offers open-enrollment, classroom-based programs where students learn to become a licensed Intercultural Etiquette and Protocol Trainer, or can earn a certificate in operational protocol by completing Protocol Officer Training. Private, on-site training is also available to provide tailored training solutions. In 2020, PSOW launched online, instructor-led training to meet the needs of students worldwide.
PSOW has offices in: Washington, DC; Columbia, SC; and Dubai, United Arab Emirates. The school is nationally accredited by the Accrediting Council for Continuing Education and Training (ACCET) and provides international protocol, cross-cultural awareness, business etiquette, and image training preparing professionals to build lasting business relationships.
.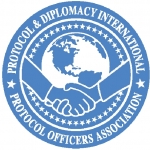 Protocol and Diplomacy International – Protocol Officers Association promotes the protocol profession and raises awareness of its central role in business and diplomacy through education and networking. PDI-POA's mission is to share the highest level of collective expertise, training, information and advice regarding accepted rules of protocol. PDI-POA is committed to facilitating communication, understanding and cooperation among individuals, governments and cultures around the globe.