How to Address Canadian Officials
How to Address the Queen of Canada?
How is Queen Elizabeth addressed when she is in Canada?
———————-~ Not knowing in Montana
Dear Not Knowing:
The "Queen" is the queen of a great many places including the United Kingdom, New Zealand, Australia, and is the hereditary monarch of Canada. Most completely, Her Majesty is:  Elizabeth the Second, by the Grace of God, Queen of the United Kingdom, Canada and Her Other Realms and Territories, Head of the Commonwealth, Defender of the Faith.
Forms of address are to Her Majesty without reference to her domain.
—-Envelope:
—-—-Her Majesty
—-—-The Queen
—-—-(Address)
—-In the letter salutation, as well as conversation, use:
—-—-Your Majesty
— Robert Hickey How to Address Canadian Officials

How to Address the Prime Minister & Spouse?
How to I address an invitation to the Prime Minister of Canada and his wife?
—————————–— Sarah
Dear Sarah:
The form for just the Prime Minister is:
—-—-The Right Honourable
—-—-(Full Name), MP
—-—-Prime Minister
—-—-(Address)
If his wife uses the same last name the joint form of address would be:
—-—-The Right Honourable (Full Name), MP
—-—-and Mrs. (Surname)
—-—-Address
If his wife uses a different surname or has a special honorific of her own (Dr., a military rank, etc.) write her name fully:
—-—-Ms./Dr. + Given Name + Family Name
The inside envelope would be
—-—-Prime Minister and Ms/Mrs./etc. (Surname)
— Robert Hickey
How to Address Canadian Officials
Privy Counselor? Privy Counsellor? or Privy Councillor?
Which is the correct spelling of a member of the Privy Council? "counselor", "counsellor" or "councillor"?
— JM in Ottawa
Dear JM:
In the United States "counselor" standard spelling for the word, but then again in the United States there is no Privy Council.
In the United Kingdom, a member of the Privy Council is a "Privy Counsellor"
In Canada, a member of the Privy Council is a "Privy Councillor"
I don't understand where the variant come from … I just try and get them correct.
— Robert Hickey

How To Address the Premier of a Province?
On Saturday, I will be formally introduced to the Premier of Manitoba. I've been unable to find the correct "greeting". Would you be kind enough to tell me how I should address this individual when meeting him?
– Katie S.
Dear Ms. S.:
I include that form on page 308 of my book. Premiers of Canadian provinces are most formally addressed in conversation simply by their office.
So in conversation the most formal response is:
——–Premier, it is a pleasure to meet you.
Not sure why Canadian's don't use Premier (name) … but none of the references suggest it.
Canadians also address their premiers as Mr./Ms. (name).
So less formally it would also be acceptable to say:
—-—-Mr. Selinger, it is a pleasure to meet you.
— Robert Hickey
How to Address Canadian Officials
Is a Member of a Canadian Provincial Parliament Addressed as The Honourable MPP?
I am a parent at a school and we are hosting an event tonight. Our local, elected provincial MPP (Member of Provincial Parliament) will be in attendance. Would he merit the introduction of The Honourable? Thanks in advance for your time
—-—-—-—-—-—–— Chantal in Ontario
Dear Chantal:
I have a entire chapter on Canadian forms in my book covering national, provincial, and municipal officials.
MPP's are not the Honourable.
Address or introduce as:
—-—-Mr. Peter Fonseca, member of the Legislative Assembly of Ontario
—-—-Ms. Christine Elliott, member of the Legislative Assembly of Ontario
The only provincial offices addressed as the Honourable are the premier, commissioner, government leader, provincial or territorial minister and speaker of a provincial assembly — but, not the members of the assembly.
— Robert Hickey How to Address Canadian Officials

How to Address a Canadian Mayor
How to Address the Mayor of a Canadian City?
I am sending A wedding invitation to the mayor of my town (I live in Canada). His name is Mark Garrett. How to I write his name on the envelope?
———————–— Sarah
Dear Sarah:
Canadian mayors are addressed in the style of their British counterparts. There are two forms and now knowing which is one used in your community I will give you both:
—-—-The Right Worshipful the Mayor of (city/town)
—-—-Mark Garrett
—-—-Address
—-—-—-or
—-—-The Worshipful Mayor of (city/town)
—-—-Mark Garrett
—-—-Address
Do include his name as noted. Invitations are directed to a person, not to just an office, since presumably invitations are social (or at least have a social appearance).
—-Inside envelope would be:
—-—-Mayor Garrett
— Robert Hickey
What is The Correct Style for the Mayor of Winnipeg?
What is the correct style for the Mayor of Winnipeg?
— Benjamin McGill
Dear Mr. McGill:
The correct form of address … the correct style for Canadian mayors is:
—-An envelope is addressed to:
——–His/Her Worship (full name)
—-—-Mayor of (name of city)
—-—-(Address)
—-For the salutation:
—-—-Dear Sir:
—-Verbally he or she would be addressed as:
—-—-Your Worship
Note on the use of the word style: In the US we would refer to this use of 'style' as 'British English" — like "lift" for elevator or "holiday" for vacation. Style as a noun means a form of address. To style is used as a verb …. as in to style someone with a title, or to be styled with a title.
To style implies granting the use of a title. The term self-styled is used when one grants oneself a title. I hear that use in the USA as in "He is a self-styled expert" which has the implication that perhaps although he calls himself an expert, he may not be one at all.
The use of his/her worship as a courtesy title for mayors also comes from the Brits. You will encounter its use (with minor variations) all over the world in current and former British Commonwealth countries.
— Robert Hickey
Not Finding Your Question Answered?
—-#1)  At right on desktops, at the bottom of every page on tablets and phones, is a list of all the offices, officials & topics covered on the site.
—-#2)  After checking the list and reading the posts, if you don't see your question answered send me an e-mail. I am pretty fast at sending a reply: usually the next day or so (unless I am traveling.)  Note: I don't have mailing or Email addresses for any of the officials and I don't keep track of offices that exist only in history books.
—-#3)  If I think your question is of interest to others, I will post the question & answer – always changing the names and specifics.
— Robert Hickey

The Protocol School of Washington (PSOW) was founded in 1988 and offers open-enrollment, classroom-based programs where students learn to become a licensed Intercultural Etiquette and Protocol Trainer, or can earn a certificate in operational protocol by completing Protocol Officer Training. Private, on-site training is also available to provide tailored training solutions. In 2020, PSOW launched online, instructor-led training to meet the needs of students worldwide.
PSOW has offices in: Washington, DC; Columbia, SC; and Dubai, United Arab Emirates. The school is nationally accredited by the Accrediting Council for Continuing Education and Training (ACCET) and provides international protocol, cross-cultural awareness, business etiquette, and image training preparing professionals to build lasting business relationships.
.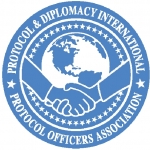 Protocol and Diplomacy International – Protocol Officers Association promotes the protocol profession and raises awareness of its central role in business and diplomacy through education and networking. PDI-POA's mission is to share the highest level of collective expertise, training, information and advice regarding accepted rules of protocol. PDI-POA is committed to facilitating communication, understanding and cooperation among individuals, governments and cultures around the globe.